Ardagh 10 Mile Challenge & 5K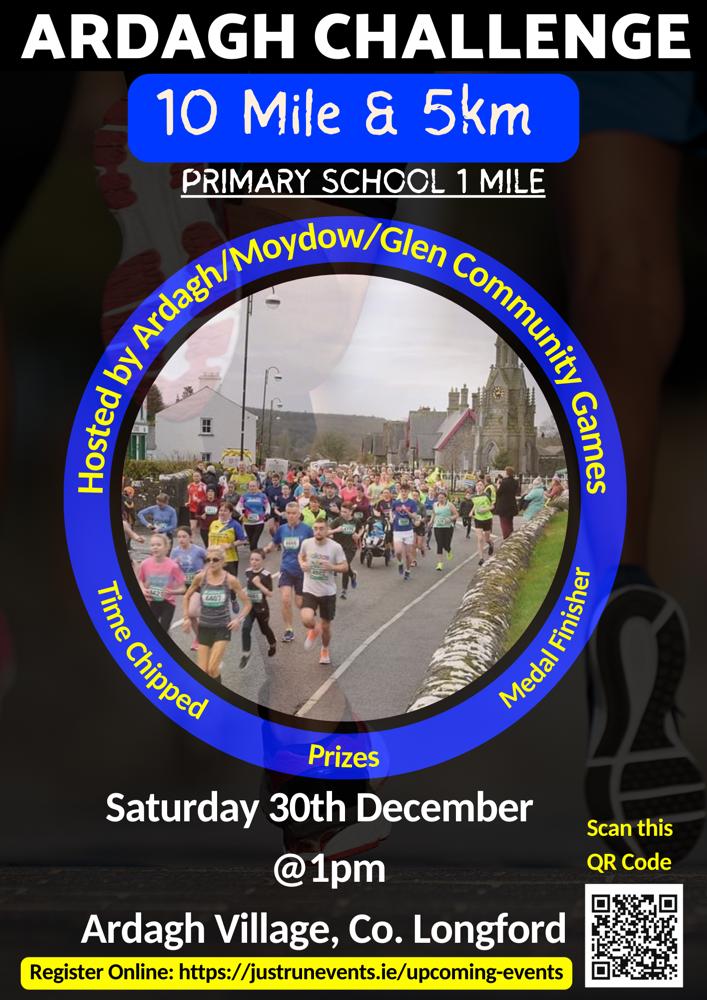 ×
Ardagh 10 Mile Challenge and 5K 2023
Our annual 10 Mile Challenge and 5K Run takes place on
Saturday 30th of December in Ardagh Village Co. Longford
The race will start at 1pm
The event is being hosted by Ardagh Moydow Glen Community Games
1st up: All entrants in both the 10 Mile Challenge will be chip timed. Results will be available online on the organisers FB page shortly after completion of the race.
2nd: Every entrant on completion of the 10 Mile Challenge will receive a specially commissioned medal.
3rd: Prize money this year for the first three ladies AND the first three gentlemen over the finish line. 1st €75, 2nd €50 and 3rd €25.
4th €100 Course Record Bonus for both the winning male and female that break the current course records.
Female - Michelle McGee - 1:01.55, from 2013 and Mick Fogarty - 53:01, from Feb 2022 (Postponed 2021 race)
Team Entry for Senior Mens & Senior Womens GAA team of 4 - Winners are fastest team of 4 for both Male and Female teams.
Saturday, December 30, 2023

1:00:00 PM

(Europe/Dublin)

10 Mile (Includes Medal+Chip)

Saturday, December 30, 2023

1:00:00 PM

(Europe/Dublin)

Saturday, December 30, 2023

1:00:00 PM

(Europe/Dublin)

Saturday, December 30, 2023

1:00:00 PM

(Europe/Dublin)

Primary School Mile (NO Chip)

Saturday, December 30, 2023

1:00:00 PM

(Europe/Dublin)

Senior Men's/Women's GAA Team of 4

Competition price per Team

€ 60

Team Registration of 4