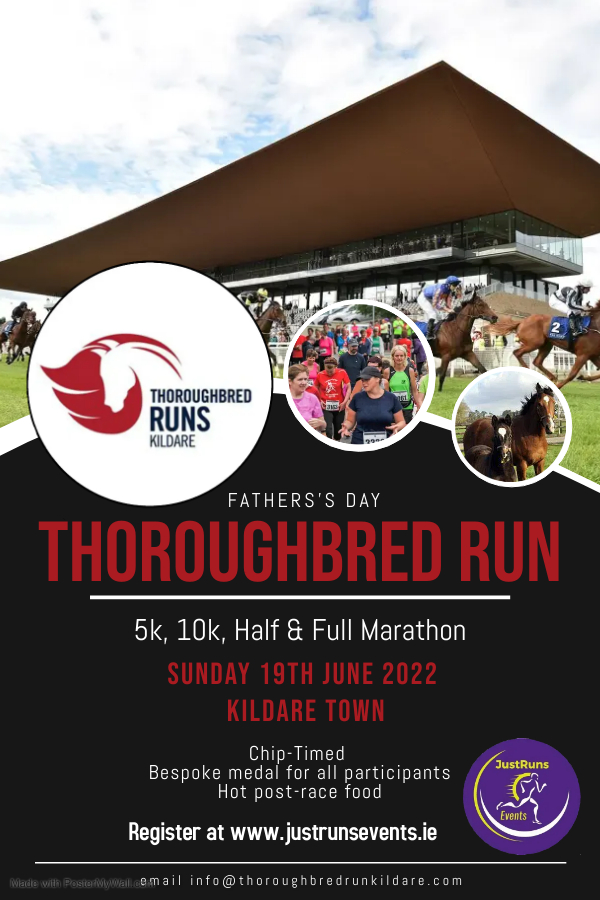 ×
Kildare Town Sports Partners are delighted to announce that "The Thoroughbred Run Kildare" will go to post again in 2022.
You are now officially under starters orders; get training the date is Sunday 19th June 2022, Father's Day!
We are growing every year and this event has Sold Out for the last few years, the 2022 event will again see us host a four-race card, That's a Marathon, half marathon, 10k and 5k.
Post-race you will have the opportunity to restore those spent calories with our now legendary hot meal "Runners Picnic" prepared and served to you in Market Square.
Be you a runner, walker or a spectator there really will be something there for everyone so make plans now and join the fun.
We have commissioned another not only fabulous but highly coveted medal for this year's event and our 1 & 2 male and female placings will receive a special trophy along with prizes and 3rd place male and female will recive a prize
Marathon – Starts at 0800hrs on Tully rd which is close to the finish line at R51 X726 (**This Start is for Full Marathon runners only, no half marathon runners can start at this time as they are on different routes**)
Half Marathon – Starts at 1030hrs at Rowanville estate at this location R51 R250
10K - Starts at 1040hrs beside Kildare Railway Station at this location R51 X206
5K – Starts at 1100hrs at Kildare Education Centre, Friary Road, R51 KN66
ALL DISTANCE TRANSFERS CLOSE 31ST MAY 2022