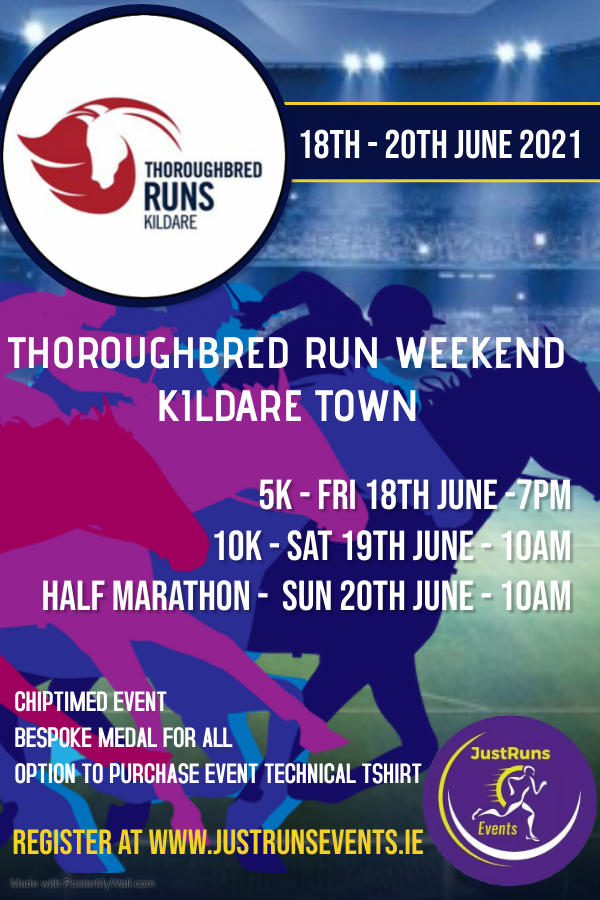 ×
Kildare Town Sports Partners announce that "The Thoroughbred Run Kildare" will go to post in 2021. Due to COVID 19 this event will now be hosted over a full weekend, we will not be able to welcome the same number of runners as in previous years and numbers will be limited but we have added a virtual ticket for this year if you miss out on a place in the race.
5K - Friday 18th June @ 7pm
10K - Saturday 19th June @ 10am
Half Marathon - Sunday 20th June @ 10am
We have commissioned another fabulous medal for this year's event
This event will be fully COVID compliant
All Races Start and finish in Kildare Town, there will be rolling wave starts based on your predicted finish time
Entry fee includes postage of race number.
In order for this event to go ahead we will need minimum participation to meet the upfront costs of hosting this event therefore the registration window will only be available for 2 weeks