Virtual RFR 2021 event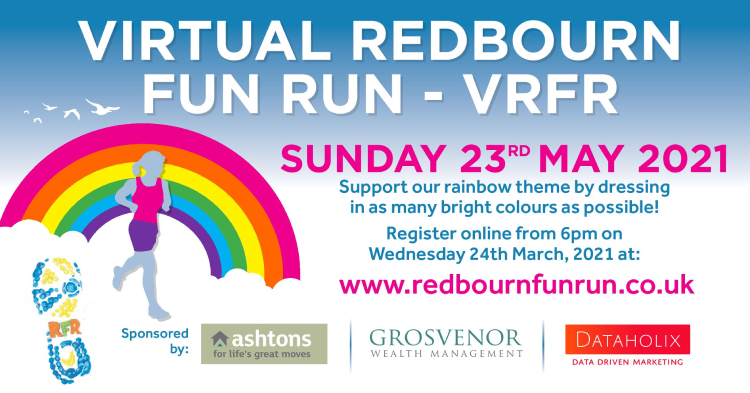 VIRTUAL REDBOURN FUN RUN
×
Dear Virtual Redbourn Fun Runner,
Well done and thank you for signing up to take part in the first-ever Virtual Redbourn Fun Run (VRFR) on Sunday, May 23rd.
Here is some important pre-event day information-
The Virtual Route:
Choose your own route to run, jog or walk your chosen distance, ideally on Sunday, May 23rd; but if you are short for time that day, why not complete your run the day before (the beauty of it being a 'virtual' event!) Don't forget to wear your brightest outfit and take lots of photos!
Please be mindful when picking your own route, especially when crossing roads and please avoid private land as there won't be any route marshals or first aid stations. As the government guidelines now do allow group exercise, we do encourage you to run in a group, for your own safety and it's just more fun to share the experience!
Please also be aware that there are no First Aid facilities provided.
Submitting your race result:
Once you have completed your event, please submit your name, time and any wonderful photos using the google link "submit your time" on the home page of the website (www.redbournfunrun.co.uk)
Race Headquarters:
We are very excited to be able to use the beautiful Redbourn North Common as our 'Race headquarters' for the day; we will be there all day on Sunday May 23rd from 9am until 5pm.
There you will be able to collect your rainbow Virtual RFR medal, goodie bag, certificate and balloons, all very kindly donated by our VRFR sponsors (Dataholix, Ashtons and Grosvenor Wealth Management, GWM).
You will easily spot us on the common by the gazebos decorated with colourful balloons!
Inside the goodie bag will be a voucher for a free prize draw, with amazing prizes, supplied by GWM – including a pair of personalized running shoes and running coaching.
A Virtual RFR Selfie board and an inflatable gantry will be there for some wonderful post-run photos.
If you can't make it down to the common on May 23rd, please do get in touch and we will arrange for your medals and certificates to be delivered (please use the contact form on the webiste)
Refreshments:
Post-race do join us for a well-earned refreshment on the common- coffee and cookies (all run under the current covid government guidelines). All proceeds from the cookie sale will go to the Redbourn PTA. Please ensure to bring cash to buy the cookies.
Prizes and a leader board:
As a little extra incentive, throughout the day we will be offering ad hoc prizes to participants who stand out; there will be prizes for the most colourful costumes, wearing the biggest rainbow, the best colourful hair and many others!
For those more competitive kids, we will be running a leader board of times for each race, so please do tell us your times at the Race headquarters.
We will be using some of your photos post event, so please do say if you would not like your photos to be used.
Any further questions please do ask or visit our website www.redbournfunrun.co.uk
We can't wait to see you on Sunday May 23rd. Keep safe when running and happy training. Thank you for your support
From all the VRFR 2021 committee
Price

£6

Discounts available

Child under 16 is £3 off

Price

£6

Discounts available

Child under 16 is £3 off

Price

£6

Discounts available

Child under 16 is £3 off

Price

£6

Discounts available

Child under 16 is £3 off